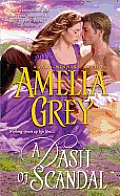 When Millicent comes to the aid of her injured aunt, she never imagined her "help" would require her to do all of the legwork her aunt can't do– attend society's most fashionable events in order to help write her aunt's gossip column!
But the devastatingly handsome Chandler Preswick, Earl of Dunraven, is on to her when he sees Millicent writing notes on her dance card. Outraged, he believes she's connected to the mysterious "Mad Ton Thief " and vows to expose her. Millicent must stop him before they are both plunged into scandal. If only he weren't so irresistibly attractive...
description taken from here.
I really liked A DASH OF SCANDAL. I didn't know, however, that it had previously been published in 2002. That said, some of you might have already read the book, being that it has already been on the market for some years now. I have to say though, I really like the new cover, it's much more vibrant and attractive.
I thought the plot was great. I had read a historical a while back, though I cannot remember what it is called, that has a girl wandering around the rich types at a party sneaking to look for information. A DASH OF SCANDAL reminded me somewhat of that book, which I also enjoyed reading.
The characters were nice, I liked them. I love rakes (what girl doesn't). And our hero is a gorgeous rake, something you cannot resist in a romance novel.
Overall -- I enjoyed reading Grey's story. It was a cute romance and recommendable.
Until Next Time,
Happy Reading!
**I was sent a copy of the book in order to write a real and honest review. I was not paid to write this review. All opinions are my own.**